Novelist, poet, playwright and essayist Joyce Carol Oates is one of the most prolific American writers of the 20th century, the author of over 70 books, including the novels Night. Sleep. Death. The Stars. (2020); The Book of American Martyrs (2017); The Accursed (2013); The Gravedigger's Daughter (2007); Blonde (2000), winner of the National Book Award; We Were the Mulvaneys (1996); Because It Is Bitter, and Because It Is My Heart (1990); You Must Remember This (1987); Bellefleur (1980); and them (1969), winner of the National Book Award. She is also the author of the story collections Beautiful Days (2018) and Dis mem ber (2017). Her short stories and essays have appeared in the New York Times, the Washington Post, The Atlantic, and Harper's, and have been widely anthologized.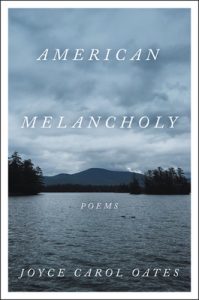 Oates has also published numerous books of poetry, including American Melancholy, (2021), Tenderness (1996), The Time Traveler (1989), Love and Its Derangements (1970), and Women In Love and Other Poems (1968). On her poetry, critic Doris Earnshaw said, "Oates's poetry … forms a body of work on its own merits and does not need to be interpreted only as an adjunct to her novels and short stories. … Poetry's compressed language releases its power more gradually, but intelligence and verbal brilliance combined with the 'talk style' rhythm that is not yet much understood should bring a wider audience to these poems."
Oates is the winner of the O. Henry Award, the National Humanities Medal, the Pivano Award, the Norman Mailer Prize for Lifetime Achievement, the Peggy V. Helmerich Distinguished Author Award, the PEN/Malamud Award, the Rae Award for the Short Story, the Stone Award for Lifetime Literary Achievement, and the 2019 Jerusalem Prize. She has taught at the University of Detroit, the University of Windsor, and Princeton University, and has edited The Ontario Review. She is currently a visiting distinguished writer-in-residence in the graduate program at New York University. Her papers are held at Syracuse University Libraries.