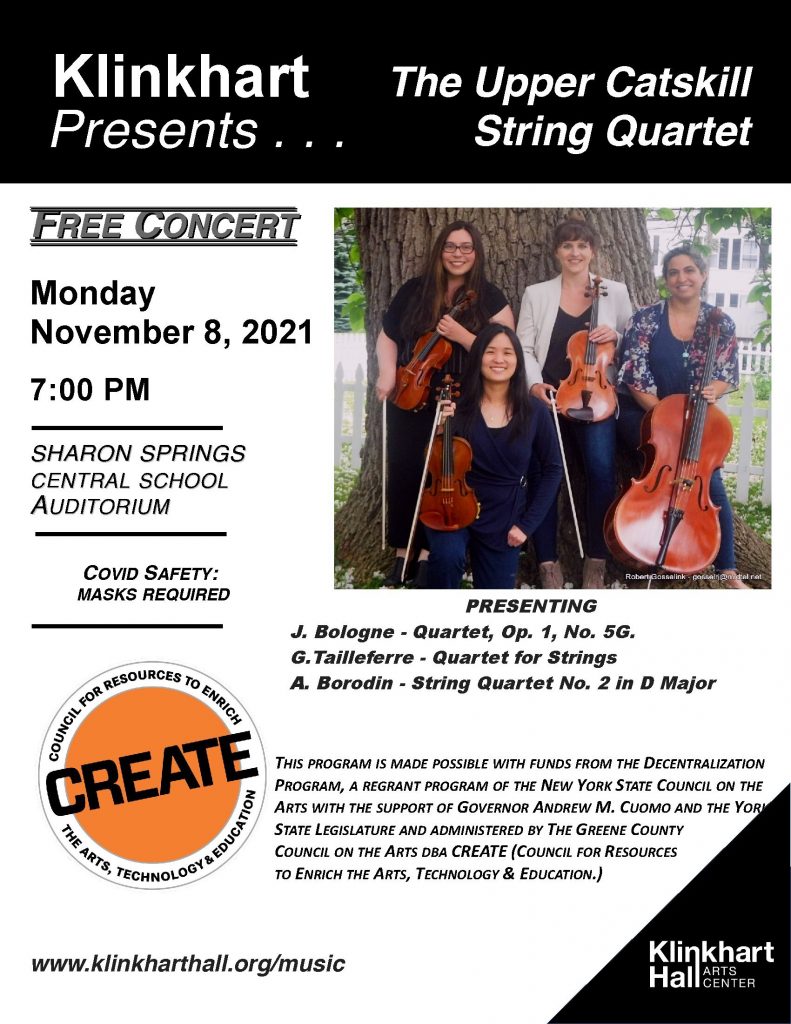 Another FREE concert

by the Upper Catskill String Quartet
Monday, November 8, 2021 at 7:00 PM
at the Sharon Springs Central School Auditorium
514 State Highway 20
Sharon Springs, NY
COVID SAFETY: MASKS REQUIRED
---
Performing
Joseph Bologne (1745 – 1799) Quartet Op. 1 No. 5 in G Minor
Germaine Tailleferre (1892 – 1983) Quartet for Strings
Alexander Borodin (1883 – 1887) Quartet No. 2
Violinists Heather Chan and Jessica Belflower, violist Amy Tompkins, and cellist Brittany Tissiere. Read more about the quartet and the program below . . .
---
I Violin – Heather Chan holds a Bachelor's Degree with a double-major in Violin Performance and Computer Science from Brigham Young University in Provo, UT, where she studied with Monte Belknap. After continuing her graduate studies in Computer Science, Heather went on to earn her Master's Degree in Violin Performance and Literature from the Eastman School of Music in Rochester, NY, where she studied with Zvi Zeitlin. She has performed in master classes with Charles Castleman and Almita Vamos, and has performed on tour in Germany, the Czech Republic, China, and South Korea. Heather is a member of the Schenectady Symphony Orchestra and frequently performs with the Glens Falls Symphony Orchestra as well as other groups in the Capital Region. She serves as Concertmaster of the Union College & Community Orchestra and the Music Company Orchestra. She also works full-time as a medical ultrasound systems engineer at GE Global Research.
II Violin – Jessica Belflower holds a Master's degree in violin performance from the University of Colorado at Boulder and a Bachelor's degree from Arizona State University. During her time at CU Boulder, she studied chamber music with the Takács Quartet. Locally, Jessica is principal second violin for Kinderhook's Concerts in the Village and she frequently performs with the Albany Symphony, Glens Falls Symphony, and Vermont Symphony. In her 12 years Upstate, she has played many concerts in NYC at Carnegie Hall, Jazz at Lincoln Center, and Symphony Space. Equally at home on a concert hall or arena stage, Jessica toured the West Coast with Andrea Bocelli, been featured nationally John Tesh's PBS television special, Piano • Gospel • Dance, and played with Trans-Siberian Orchestra. As an educator, Jessica is adjunct faculty at the College of St Rose, works closely with Empire State Youth Orchestra, and maintains a private violin studio. Jessica lives in North Greenbush, NY with her son, Walden, and husband, James.
Viola – Amy Tompkins is an active performer and arts administrator. She received her Master's Degree in Arts Administration from Indiana University, Master's of Music in Viola Performance from the University of Colorado at Boulder, and Bachelor's of Music from Boise State University. Ms. Tompkins studied with Erika Eckert, Geraldine Walther, and Dr. Linda Kline, and has performed in masterclasses with Ivo-Jan van der Werff, Lynne Ramsey, and the Takács Quartet. Regionally, Ms. Tompkins has performed with the Binghamton Philharmonic, Catskills Symphony, Glens Falls Symphony Orchestra, Tri-Cities Opera, and Burnt Hills Oratorio Society, and is a founding member of the Castalia Quartet. Previous engagements include the Boise Philharmonic, Boise Baroque Orchestra, Opera Idaho, McCall SummerFest, and Sun Valley Opera. Ms. Tompkins currently serves as the Associate Director of Development for the Glimmerglass Festival in Cooperstown, NY.
Cello – Brittany Tissiere has been musical from a young age, taking violin lessons in elementary and middle school, and piano and 'cello lessons through middle and high school. She graduated from Schenectady County Community College with concentrations in 'cello and voice, and was the featured soloist with the SUNY Albany Orchestra in 2006, playing the Saint-Saens Concerto in A minor. Brittany is currently a freelance musician, providing music for weddings throughout New York and surrounding states. She is also a member of New Day, a local a cappella vocal group. Brittany is also on the Fusion Community Church's addiction recovery ministry worship team. Brittany is also a stay-at-home mother of five.
---
Joseph Bologne (1745 – 1799), Le Chevalier de Saint-Georges, was born on the French Caribbean island of Guadeloupe, the son of plantation owner George Bologne and his Senegalese slave, Nanon. John Adams praised Bologne in his diary: "He is the most accomplished man in Europe in Riding, Running, Shooting, Fencing, Dancing, Musick." A young Bologne displayed exceptional talent at many things, but his initial fame was as a champion fencer. Little information has survived about Bologne's early musical education, but he was so accomplished as a violinist that he became a member of the renowned Les Concerts des Amateurs at age 24, soon after making his debut as violin soloist (performing two of his concertos) and becoming music director four years later. He was an important figure in the music scene of Paris and even roomed with Mozart for a brief period. It is rumored that Marie Antoinette took lessons from Bologne. A prolific composer, Bologne published the majority of his compositions within a span of six years, between 1773 and 1779—including over a dozen works for orchestra, multiple sonatas, collections of chamber music, and six operas.
Germaine Tailleferre (1892 – 1983) was an accomplished pianist and the only woman composer in Les Six, an early 20th-century avant-garde collective based in France that also included well-known composers Francis Poulenc, Darius Milhaud, and Arthur Honegger. The members of Les Six were known for their refreshing aesthetic ideals of simplicity in contrast to the heavy Romanticism of German composer Richard Wagner and the chromatic impressionism of Claude Debussy. Although Tailleferre received many prizes and honors for her compositions, the majority of her works were not published until after her death.
Alexander Borodin (1833 – 1887), though best known today as a composer, was a doctor and chemist by profession, and practiced music and composition in his spare time. He was a member of the Russian group of composers known variously as The Five, the Mighty Handful, and the New Russian School, along with composers Modest Mussorgsky and Nikolai Rimsky-Korsakov. The Five sought to create a distinctly Russian style of classical music, drawing from local folk tunes and injecting unique harmonic elements to evoke a sense of exoticism. Several of Borodin's works, including the 2nd String Quartet, were adapted for the 1953 Broadway musical hit Kismet by American composers Robert Wright and George Forrest. Borodin's music can be heard in the songs "Stranger in Paradise," "And This Is My Beloved" and "Baubles, Bangles & Beads," and he was posthumously awarded a Tony Award in 1954 for his music used in this work.
---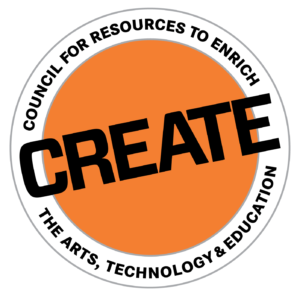 This season, The Upper Catskill String Quartet will present multiple performances in Schoharie County.

These concerts are made possible with funds from the Decentralization Program, a regrant program of the New York State Council on the Arts with support of Governor Kathy Hockul and the New York State Legislature and administered by the Greene County Council on the Arts, DBA CREATE (Council for Resources to Enrich the Arts, Technology & Education).